23 VN FIRMS ELIGIBLE TO EXPORT TRA CATFISH TO US
On the March 2016 effective date, all Siluriformes fish, including catfish, will be under the regulatory jurisdiction of FSIS and no longer regulated by the US Food and Drug Administration (FDA). — Photo vneconomy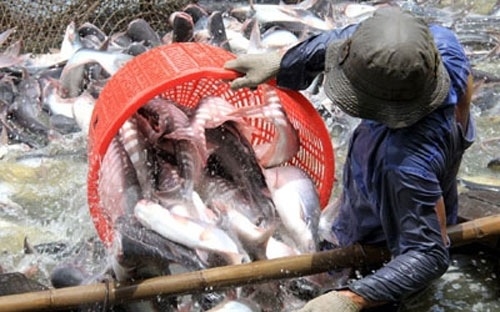 On the March 2016 effective date, all Siluriformes fish, including catfish, will be under the regulatory jurisdiction of FSIS and no longer regulated by the US Food and Drug Administration (FDA). — Photo vneconomy
HA NOI (VNS) — The United States (US) has released a list of eligible catfish exporters of four countries, including Việt Nam, who could ship their products to that country.
These products would be shipped under the inspection programme of the US for Siluriformes fish, including catfish.
They are 23 plants in Việt Nam 19 plants in China, 13 plants in Myanmar and 7 in Thailand, according to the fisis.usda.gov website.
The March 2016 effective date of the rule under the inspection programme for Siluriformes fish begins an 18-month transitional implementation period for both domestic and international producers.
On the March 2016 effective date, all Siluriformes fish, including catfish, will be under the regulatory jurisdiction of FSIS and no longer regulated by the US Food and Drug Administration (FDA).
During the 18-month transitional period, FSIS will re-inspect and conduct species and residue sampling on imported Siluriformes fish shipments at least quarterly at US import establishments on a random basis.
Also, during the transitional period, countries wishing to continue exporting products to the US after the transitional period must apply for an equivalency determination.
Applications for equivalency must be completed by the end of the 18-month transitional period, September 1, 2017. The FSIS will assist countries with their equivalency applications.
According to Việt Nam's General Department of Customs, Việt Nam exported 11,770 tonnes of tra catfish to the US in January, earning US$32.4 million. The exports had a year-on-year increase of 24.5 per cent in volume and 4.1 per cent in value.
Lack of tra catfish supply for export
The local tra fish industry will see a lack of supply for processing until 2017, and that will have an effect on exports this year, an official has said.
Dương Ngọc Minh, Việt Nam Association of Seafood Exporters and Producers (VASEP) deputy chairman, said all factories processing tra fish require 3.500 tonnes of the product per day supplied together by them, farmers and through supply from the regions.

However, at present all sources put together meet only 70 per cent of the demand and the volume would drop further in the next few months, he said. The supply of tra fish was expected to meet 50 per cent of demand, or 1,700 tonnes, from June 2016 until the first quarter of 2017.

The lack of supply was due to a reduction in tra fish production last year, he said. This was due to lack of funds for production among enterprises and disinterest from banks in advancing loans for production. Since the farmers did not receive sustainable co-operation in consuming their tra fish they stopped producing it and decided to rear other kinds of fishery products for a higher profit.

That situation would affect the industry's tra fish exports for this year, Minh said. Vietnamese tra fish products are exported to 80 countries and territories in the world, but the lack of supply would mean the industry can only meet the demand of three major markets mainly the United States, Europe and China.
Therefore, Việt Nam would find it difficult to meet its target of US$1.7 billion in tra fish exports for this year, he said.

Importers know there is a lack of tra fish for processing so they have promoted imports at present to avoid higher prices by this year-end, Minh said. So the price of tra fish and its export price are expected to increase in the future, reported cafef.vn.

The local enterprises and farmers should follow the developments in the local tra fish market to seize the opportunities to push up the prices, he said.
To take care of these issues, the tra fish industry needs a specific strategy to ensure output of 1.2 million tonnes to 1.4 million tonnes for export processing, including policies on credit, increase of quality, and co-operation between farmers and processors for ensuring consumption and production in the long term, Minh said.
Việt Nam - Plants Eligible to Export Meat (Siluriformes Only) to the United States:
1/ WORKSHOP 3 - VĨNH HOÀN CORP
2/ Vĩnh Hoàn Corporation (VĨNH HOÀN CORP)
3/ Workshop 2 - Vĩnh Hoàn Corporation (VĨNH HOÀN CORP)
4/ Biển Đông Seafood Co., Ltd
5/ GOLDENQUALITY SEAFOOD CORPORATION (GOLDENQUALITY)
6/ Vạn Đức Tiền Giang food export company
7/ Southern Fishery Industries Company Ltd. (SOUTHVINA)
8/ NTSF Seafoods Joint Stock Company (NTSF SEAFOODS)
9/ CADOVIMEX II freezing factory No.1 - CADOVIMEX II seafood import - export and processing Joint Stock Company
10/ Thuận An Production Trading and Service Co., LTD- Thuận An III Enterprise of Aquatic Processing and Exporting (SONASEAFOOD)
11/ Tân Thành Lợi Frozen food Co.Ltd
12/ Bến Tre Aquaproduct Import and Export Joint Stock Company - (AQUATEX BENTRE)
13/ Việt Phú foods & fish Corporation (VIET PHU FOODS AND FISH CORP)
14/ Asia Commerce Fisheries JSC (ACOMFISH)
15/ C.P. Vietnam Corporation – Bến Tre Frozen Branch
16/ Hùng Vương Corporation (HV Corp.)
17/ An Giang fisheries import - export joint stock company, Factory 7 (AGIFISH CO.)
18/ An Giang Fisheries Import - Export Joint Stock Company, Factory 8 (AGIFISH CO.)
19/ Frozen Factory AGF 9
20/ Agifish Food Processing Factory
21/ Hùng Vương Corporation (HV Corp.) - Workshop II
22/ Europe Joint Stock Company (EJS CO.)
23/ GEMPIMEX 404 Company.
Source: fsis.usda.gov